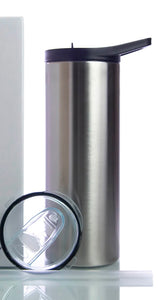 Straight 25oz Duo Lid
This is a 25oz tumbler that comes with 2 lids- a hydro lid and a traditional sliding lid for those hot drinks too!

Stainless steel tumblers are enforced with a double wall vacuum seal designed to keep your beverages hot or cold for hours. They are handcrafted and designed using the finest materials available. High quality glitters, alcohol inks, mica powders, and paints are sealed with FDA compliant epoxy.
As with all handmade items, special care instructions are required including but not limited to no dishwasher, no microwave, hand wash and dry immediately, no soaking in sink, do not submit to extreme temperatures, and don't drop.
All items are handmade and should always be treated as such. Although they are durable, they have the potential to break or ruin when care instructions are not followed. Once the item has been shipped, I cannot be held accountable for any damage.
Each item is made with love. There may be blemishes or variations including bubbles, dimples, pin-sized rough spots or mixing of colors. I do my best to prevent these things but I am human. I ask that you find beauty in the flaws.